Registration is now open for the 2015 cross-country season until September 11. New uniform orders, however, must be placed by August 20.
For links to registration and season details, click on Cross-Country in the sidebar.
E-mail Chris DelliCarpini, chrisdc@mac.com, with any questions.
Starting July 7, all are invited to join St. Anne's CYO cross-country for our summer runs.
These twice-weekly sessions are great for returning runners, those considering cross-country, and even athletes in other sports looking to stay active.
For details visit our Cross-Country page. Send any questions to Chris DelliCarpini at chrisdc@mac.com.
Congratulations to James Lynch's 8th Grade Volleyball Team for winning the 2015 CYO Sportsmanship Award!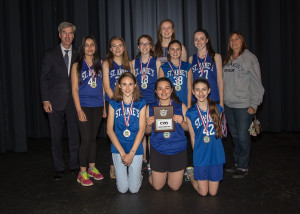 Congratulations to Ann Stevenson's 6th Grade Volleyball Team for winning the CYO Sportsmanship Award for the 2015 season! They finished the season 15-15, 5th out of 10 teams in the B division.
Team members: Mia Abruzzo, Sarah Leder, Daria Gemmel, Mollie Landrum, Sofia Guzzo, Kelly Brennan, Ashley Larsson, Ellie Jewell, Taylor Macchia, Lindsey Stevenson, and Stephanie Stevenson
Assistant coaches: Juliana Russ and Nora Stenson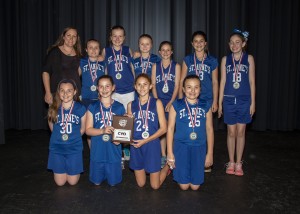 Congratulations to Pat McGoldrick, recipient of the Saint Anne's 2015 CYO Role Model Award. Patrick received his award at the annual CYO Dinner held at the Milleridge Cottage on Friday, April 14th.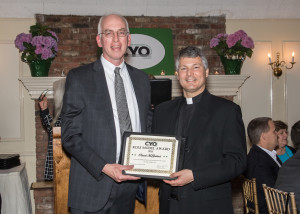 Congratulations to the 5th Grade Boys Basketball team for winning the CYO 'A' Division Championship!
Team Members: Danny Macchiarola, Jack Barker, Kyle Wood, Andrew Scattareggia, Joey Wood, Luke Paskewicz, Jack Schmatz, Brendan Staub, Michael Miller, Connor Brock
Coach Joe Scattareggia, Asst. Coach John Barker, Asst. Coach Kevin Wood
Congratulations to the 6th Grade Boys Basketball team for winning the CYO 'A' Division Championship for the second year in a row! They were undefeated for both seasons.
Team Members: Phil Iandoli, Tommy Franz, Tommy Engelke, Chris Honan, Mike Deluca, Kurt Dengler, Liam Westfield, Timmy Molgano, Aidan McDonagh, Jack Doherty.
Coaches: Dan Kiley, Kevin McDermott, Ryan McDermott
Congratulations to Jeff Lawlor's and Bernadette Kasnicki's 6th grade teams for winning the CYO Sportsmanship Award! It is a great honor to win this award, which is only given to one team in each league.
Registration for the 2015 indoor track season is open through January 15, 2015.
Meets will be in the fieldhouse at St. Anthony's High School in Huntington, on their state-of-the-art 200m indoor track.
Visit our Indoor Track page for details and registration.
The St. Anne's 6th Grade Girls Basketball Team took first place in the Girls 'B' division at the St. Agnes Annual Christmas Tournament. The team, coached by Jeff Lawlor and Conor O'Sullivan, went undefeated in the tournament, beating strong teams from St. Edward (Syosset), St. Aidan (Williston Park) and St. Joan of Arc (Jackson Heights). Caitlin O'Sullivan and Abby O'Sullivan received All-Tournament honors and Jamie O'Connell was named Tournament MVP. The team: Alice Crandall, Bridget Cullinan, Belinda Daniel, Sofia Guzzo, Madelyn Lawlor, Jamie O'Connell, Abby O'Sullivan, Caitlin O'Sullivan, Lindsey Stevenson, Stephanie Stevenson. Congratulations girls!